Finding Your Perfect Massage School
If you are considering becoming a massage therapist, one of the most critical decisions you'll make is choosing the right massage school. This choice will significantly impact your future career and success as a massage therapist. At NC Massage School, we understand the importance of finding a program that aligns with your educational and career objectives.
To assist you in making the best decision, here are some factors to consider when choosing between live and online massage schools: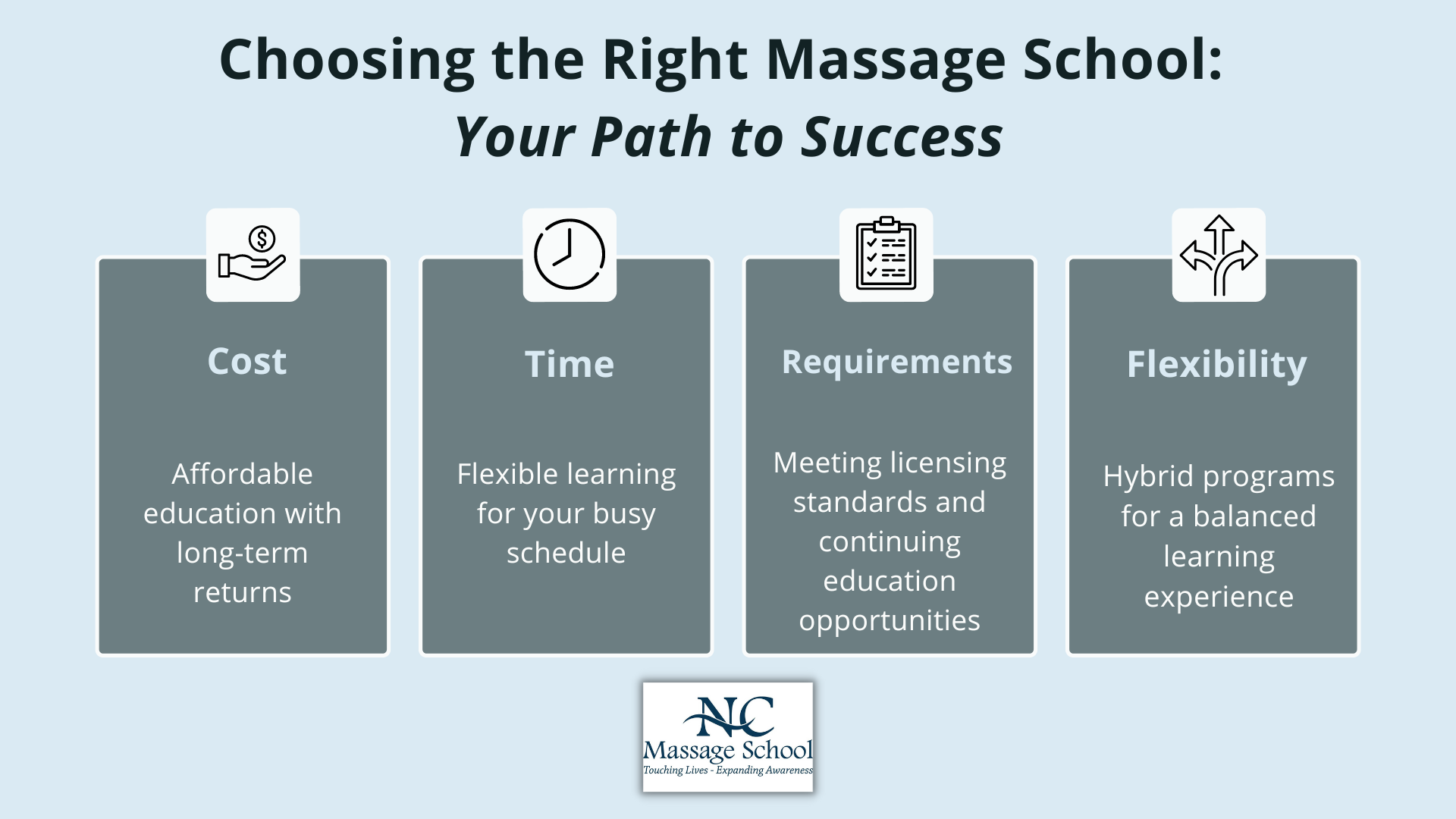 What's Right For You
When choosing a massage school, it's essential to consider the educational aspect and the overall experience and support provided. We are dedicated to your success as a massage therapist at NC Massage School. Our experienced instructors, comprehensive curriculum, and supportive learning environment ensure you receive the best education possible.
Moreover, we offer a tranquil campus in Cornelius, NC, the perfect setting for your massage therapy education. Our highly qualified staff is passionate about massage therapy and ready to assist you in achieving your goals. With a focus on holistic training and hands-on instruction, our school is designed to help you succeed in your massage therapy career.
Take the First Step
Take the first step towards a fulfilling career in massage therapy by contacting us today! Our upcoming semester is about to begin, and we're excited to welcome you to our community of passionate massage therapists. Whether you're starting a new career or seeking to enhance your skills with continuing education, NC Massage School is here to support you every step of the way. Let's work together to make your dreams of becoming a skilled and compassionate massage therapist a reality.
Contact us now and get ready to embark on a rewarding and fulfilling career journey!
Kristy Serdinsky, Owner, and Director of Education at NC Massage School. With a background in teaching and administration in charter and private schools, Kristy's dedication to helping others led her to open a massage spa in Cornelius in 2015. Now, she brings her expertise in education and the massage and bodywork industry to NC Massage School, blending her two passions to create a transformative learning experience.