General Pricing Information
If you are interested in going to massage therapy school, one factor that impacts your decision will be the cost. Of course, any education is worth investing in, but the cost is something you must plan for before deciding to go to school. Here is a closer look at the cost of massage therapy school and what you get for that price.
In North Carolina – to Earn Your NC Massage Therapy Degree, you need at least a 500-Hour Program
To become a licensed massage therapist in North Carolina, you must pass the National MBLEx exam. Most massage therapy programs can be completed in six months of full-time study or 12 months of part-time study, depending on your needs. At NC Massage School, you will complete 650 hours of study to learn all you need about massage therapy. Any massage therapy program you attend should teach you the steps to pass the national MBLEx exam.
NC Massage School has a 650-Hour Massage Diploma Program covering science and muscle courses, massage courses, and practice-building courses. As a bonus, students also explore clinical Neuromuscular and structural bodywork through the course of their studies. The program also provides hands-on training, so students graduate ready to start their own practices upon graduation.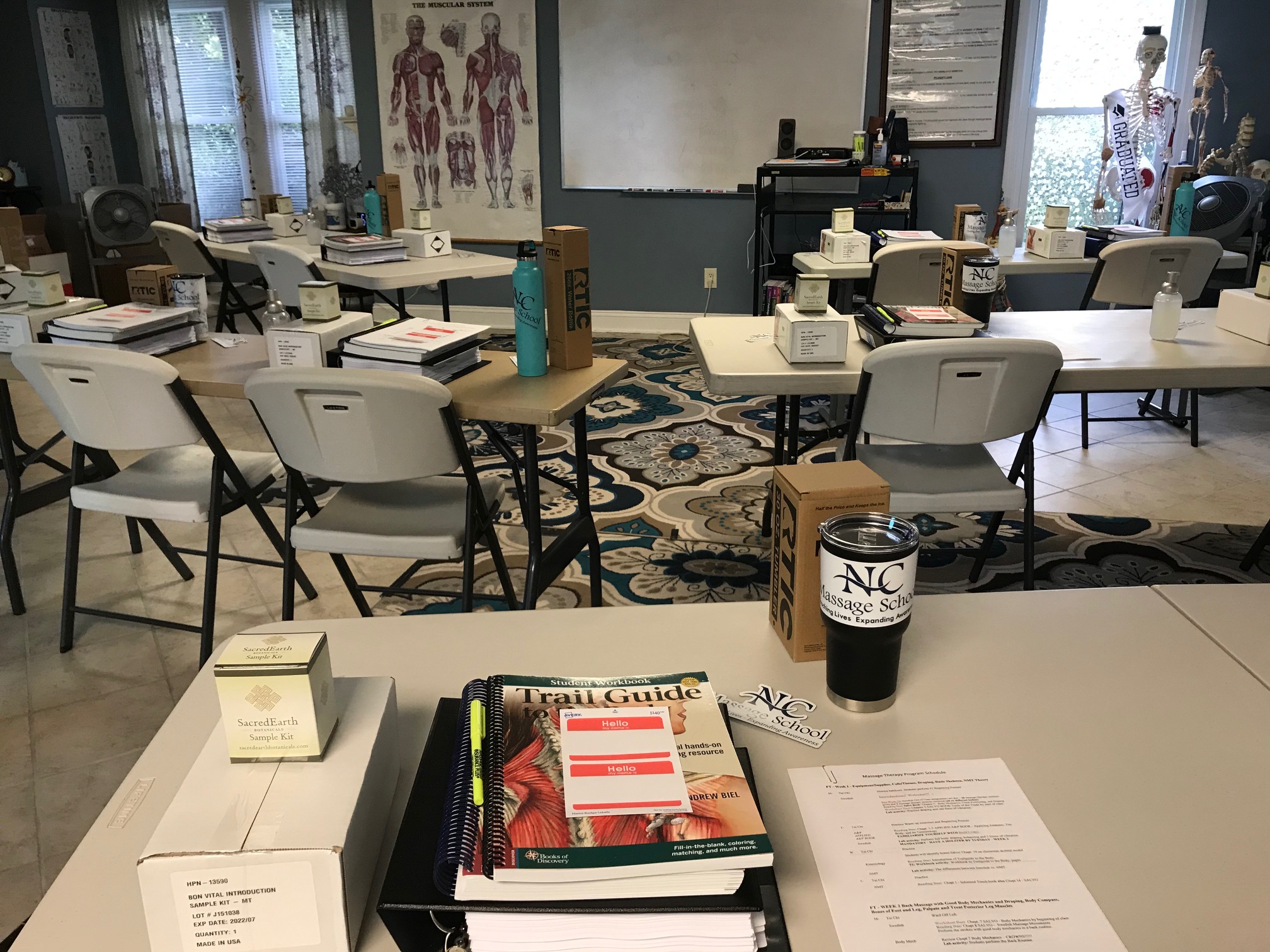 The Cost for the Massage Therapy Diploma Program
At NC Massage School, you can complete the entire 650-Hour Massage Diploma Program for $8,425. In addition, we offer several financing options to make this amount fit your budget needs. This low tuition combined with our financing options gives you an affordable way to launch your career in massage therapy.
Other Massage Therapy School Costs
In addition to the 650-Hour Diploma Program, NC Massage School offers continuing education options for current massage therapists who need to maintain their licenses. The cost for continuing education varies and ranges from around $100 for a course to over $400 depending on the number of hours it provides, the topic covered, and the instructor. You can find affordable options to add your continuing education credits with NC Massage School, and start dates vary throughout the year to accommodate your schedule.
The massage therapy school cost may be less than you think. Reach out to our team to learn more about what makes NC Massage School an affordable option for your education needs.
Kristy Serdinsky, Owner, and Director of Education at NC Massage School. With a background in teaching and administration in charter and private schools, Kristy's dedication to helping others led her to open a massage spa in Cornelius in 2015. Now, she brings her expertise in education and the massage and bodywork industry to NC Massage School, blending her two passions to create a transformative learning experience.