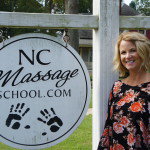 Kristie Hogan
Owner
With over 30+ years management experience. Her dedication and knowledge of the field of massage and bodywork therapy surpass many. She is dedicated to making sure you receive the BEST massage therapy education! Her discipline, experienced skill, and professionalism are a tremendous asset to the NC Massage School.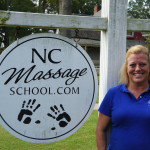 Jeanne Weeks,
Program Director, Instructor, LMBT #4252
Jeanne's knowledge and expertise makes her a dynamite instructor! She has been a Neuromuscular massage therapist since 2003. Jeanne's creativity and ability to communicate lessons and techniques to students makes her easy to work and learn with!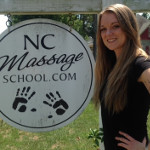 Tori Shepherd
Instructor/Clinical Supervisor,  LMBT #10973
Tori is a licensed massage and bodywork therapist. She is a graduate of NC Massage School. She is certified in manual Lymphatic drainage, Pre-Natal Pregnancy Massage, Medi-cupping, Neuromuscular Therapy and Reflexology. Tori has experience working in a spa setting; working with clients in a psychological retreat; trauma survivors; and also working with chiropractic doctors and patients. Her passion to help students and clients; structure; and attention to detail are a true asset in the classroom.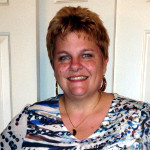 Adrienne Strache,RN
Instructor, LMBT #7571
Adrienne is a licensed massage and bodywork therapist and former registered nurse. She is a graduate of NC Massage School and Saint Joseph's College of Nursing in Syracuse, NY. Her blend of medical knowledge and her passion for healing make her a tremendous asset to the NC Massage School. Her energy and enthusiasm are evident in the unique and fun way she delivers each lesson!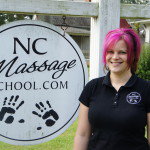 Danielle Ratliff
Instructor, LMBT #12394
Danielle Ratliff is a Licensed Massage & Bodywork Therapist (#12394), Owner and General Manager of Serenity Now Massage Therapy, a Registered Dietitian (#963163), and a Reiki Practitioner. She is Certified in Neuromuscular Therapy and Pregnancy Massage and has a Bachelor's of Science in Public Health from the University of North Carolina at Chapel Hill. Danielle is a caring professional who guides her students and clients through their journey towards serenity using intuitive touch and a thorough knowledge of human anatomy and neuromuscular therapy. She uses her skills and knowledge to help those who suffer from chronic pain, emotional stress or just need a bit of serenity added to their lives.