At NC Massage School, we are dedicated to providing our clients with up-to-date most popular and effective massage techniques. Thai massage is gaining popularity among clients, and as such is a type of massage many massage therapists are looking to add to their practices. Here's what you need to know about this popular technique and how you can add it to your offerings.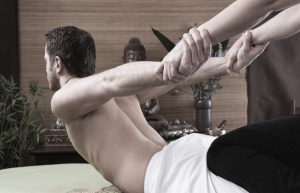 What Is the Technique?
The Thai massage technique is a method of massage that stretches the entire body along energy lines to release the flow of energy and help the body relax. It uses many similar techniques and strategies found in a yoga exercise class. Clients often experience a deep state of relaxation with this particular technique.
Why Is Thai Massage Popular?
Thai massage is popular among clients because of the many benefits it provides. The deep level of relaxation found with Thai massage is difficult to attain with other techniques. Patients often report improvement in their sleep after a Thai massage session.
Improved sleep adds many other benefits that are not directly related to the massage technique, including reduced stress, improved attention and improved healing. In addition, the massage reduces muscular stress, increasing healthy fluid flowing to the muscles, so clients see their energy and strength improve.
With reduced stress and improved energy, clients enjoy better moods. Stress-related heart problems can be reduced with Thai massage, and many experience lower blood pressure. Finally, circulation is enhanced during the massage session, and that can help reduce headaches and improve energy and attention after the session is done.
Upcoming Thai Massage Training
If you are interested in adding Thai massage to your offerings, the right training is important. NC Massage School is offering a class this summer under the instruction of Jill Burynski. This one-day course will teach Traditional Thai Foot Massage, which is an important component of Thai massage. Jill is a Thailand trained instructor, and therefore a clear expert in this technique.
Traditional Thai foot massage brings reflexology and Thai massage together to help free energy blocks and stress, as well as soreness and fatigue in the legs and feet. The upcoming course is scheduled for Friday, June 2 from 9 to 5 and is worth 7 continuing education hours. A discounted registration fee is available until May 25. Secure your spot today before the price increases.
Kristy Serdinsky, Owner, and Director of Education at NC Massage School. With a background in teaching and administration in charter and private schools, Kristy's dedication to helping others led her to open a massage spa in Cornelius in 2015. Now, she brings her expertise in education and the massage and bodywork industry to NC Massage School, blending her two passions to create a transformative learning experience.