Are you offering Thai massage to your clients yet? With the many Thai massage benefits this technique offers, it is a valuable service to consider adding to your service menu.
What Is Thai Massage?
Thai massage is a massage technique that uses slow, methodical stretching along the entire body to help relax it. Thai massage is delivered along the body's energy lines to help release the flow of energy in the body. Using techniques similar to yoga, Thai massage helps clients reach a deep level of relaxation.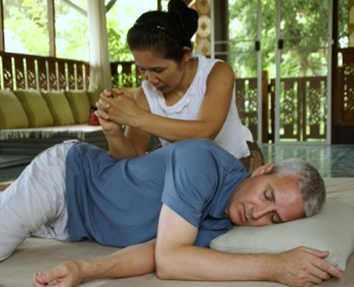 Thai Massage Benefits
The deep level of relaxation brought on by Thai massage brings a true relaxation that many clients have never experienced. This, in turn, will give clients better sleep. Often when the client is sleeping well, the body's ailments begin to heal on their own. Muscular stress is alleviated with this massage technique, bringing increased fluid to the muscles and increasing energy and strength.
Clients who undergo Thai massage also notice an improved outlook and mood coupled with personal centering. This benefit makes it easier for the client to cope with the stressors of life in a calm manner, and can also help lower blood pressure and other heart problems brought on by stress.
During a Thai massage session, the circulatory system is enhanced, adding increased blood flow and oxygen to the brain. This can limit migraines and headaches and also increase attention and lessen the risk of blood clots and stroke.
NC Massage School Offers Thai Massage Classes
As you consider these Thai Massage benefits, you are likely wondering what you need to do to add this to your service menu. NC Massage School offers an intensive three-day training program designed to help you learn Thai massage, understand its benefits and add it to your services. You will walk away capable of delivering both two-hour traditional Thai massage and integrated Thai table massage.
Kristy Serdinsky, Owner, and Director of Education at NC Massage School. With a background in teaching and administration in charter and private schools, Kristy's dedication to helping others led her to open a massage spa in Cornelius in 2015. Now, she brings her expertise in education and the massage and bodywork industry to NC Massage School, blending her two passions to create a transformative learning experience.