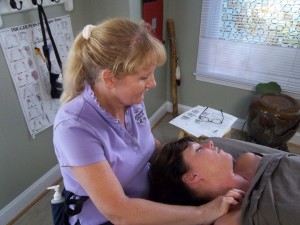 Has all of the holiday hoopla and stress built up a tension headache in your head? You can relieve that tension headache with the help of a therapeutic massage. Whether for yourself or the person planning the holiday events for your family, therapeutic massage can help alleviate the tension associated with tension headaches and provide relief.
Tension Headaches Are Quite Common
In America, 45 million people suffer from chronic headaches. Around 60 percent of that number suffer from tension headaches or migraines caused by stress. This is a staggering number of people. If you or someone you care about is among these, you know how debilitating the condition can be.
According to the American Massage Therapy Association, the most common type of tension headache, affecting 90-92 percent of patients, are triggered by misalignment, poor posture, eyes train, muscular tension and musculoskeletal imbalances. Massage therapy can help with several of these problems, bringing relief from the chronic pain these patients are suffering.
Massage Therapy Helps in Two Ways
Massage therapy has the potential to help people struggling with chronic headaches in two ways. First, massage therapy done on a regular basis can be a proactive treatment against tension headaches. When people regularly receive therapeutic massage, their bodies are better equipped to maintain an optimal level of stress-relief and relaxation. This can lessen the risk of a chronic migraine or tension headache attack.
Second, massage therapy can help people who are experiencing a tension headache. The massage eases pressure from the tense muscles, helping bring relief from the headache pain. This type of therapeutic massage focuses on the head, shoulders and neck, all of which have muscles that can contribute to chronic headaches.
Studies Show It Works
In 2002 the National Institutes of Health reported on a study that looked into whether massage therapy used with patients suffering from chronic tension headaches was helpful. The study followed chronic tensions headache sufferers who had structured massage therapy treatment on the neck and shoulder muscles. At the end of the study, headache frequency dropped within the first week of massage therapy treatment, and this drop continued throughout the course of the study. Also, when headaches did occur, they tended to be shorter in duration than prior to receiving massage therapy.
Whether you are looking to have therapy to treat your headache or are a therapist looking to help patients find relief, the good news is that massage therapy is a proven method for dealing with tension headaches. The NC Massage School can help you embrace this treatment for headaches, either in your practice or in your personal life.
Kristy Serdinsky, Owner, and Director of Education at NC Massage School. With a background in teaching and administration in charter and private schools, Kristy's dedication to helping others led her to open a massage spa in Cornelius in 2015. Now, she brings her expertise in education and the massage and bodywork industry to NC Massage School, blending her two passions to create a transformative learning experience.