650 Hour Diploma Program
A massage therapy career has the excellent potential not only to make a good income but also to make a difference in the lives of others. Starting this career begins with the right education. For individuals who are looking to study with hands-on training in a traditional 650-hour diploma program (which includes Neuromuscular Certification), NC Massage School has the right program conveniently located near Charlotte. Upcoming class start dates July 6th, 2020 .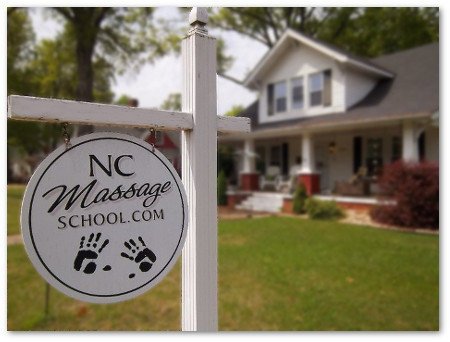 Why NC Massage School?
NC Massage School offers flexible programming and a beautiful campus in Cornelius, NC, not far from the city of Charlotte. Here, those studying for a career in massage therapy can learn from qualified instructors who take a holistic, hands-on approach to the education process. Known for quality programs including both the diploma program and continuing education programming, NC Massage School is one of the leading massage therapy training programs in the region.
At NC Massage School, you benefit from learning from a passionate staff who are not only knowledgeable in their fields but also exceptional in their instructional abilities. We have worked hard to build a community where students and teachers support each other to further the field of massage therapy.
Massage Therapy Diploma Programs
The primary offering at NC Massage School is our 650-hour diploma program. Upon completion of the 650-hour diploma program, students earn their Neuromuscular Certification, which gives you the basis you need to launch your massage therapy career. If you are interested in becoming a massage therapist, the journey starts with our massage therapy diploma program.
Continuing Education Opportunistic for Massage Therapy Professionals
In addition to our massage therapy diploma program, we offer the continuing education courses practicing therapists need to keep their licenses up to date. We have a variety of options for your convenience, including online options, weekend seminars, and classes taught at our campus. All help you get the training you need to keep your license up to date while you strive to learn new techniques and skills to help your clients.
NC Massage School is located in the beautiful Lake Norman area, just a short 20 miles from Charlotte. Our tranquil setting is convenient to the city, yet far enough away to provide a calm environment for education. If you are ready to embrace a career in massage therapy or are looking for a convenient location to attain your continuing education, reach out to NC Massage School today.