At North Carolina Massage School, we strive to be a vibrant part of the local community while we offer our educational services to massage therapist from all parts of the country. That is why we are pleased to sponsor the upcoming Evening of Hope and Healing. Scheduled for November 15th, the Evening of Hope and Healing is a time for the community to get together to support the services of Safe Alliance while enjoying a quiet dinner, some dancing and a silent auction. Because of North Carolina Massage School's ongoing desire to support the efforts of the local community, we are pleased to offer our sponsorship to this event.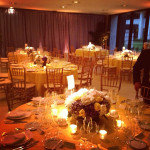 About the Event
An Evening of Hope and Healing will be held on November 15 from 7:00 p.m. until 11:00 p.m. at The Peninsula Club. The evening will include a delicious dinner and fun silent auction, as well as a chance to dance the night away. Bring your significant other or a group of friends and support an important local charitable organization.
The cost for the dinner is $75 per person or $675 for a table of 10. Proceeds go to support the work of Safe Alliance and its work in the region to support victims of domestic violence and sexual assault.
About Safe Alliance
Safe Alliance is an organization dedicated to supporting people who are in crisis in the greater Charlotte and Lake Norman area. The support involves education, crisis lines, safety planning, temporary shelter and even hospital accompaniment for those who are the victims of sexual assault. They also have support and counseling available for child survivors of sexual and physical abuse. Teen and adult support groups help people overcome the trauma of sexual assault. They even have an Employee Assistance Program that employers can tap into to give employees short term counseling as a benefit when it is needed.
At North Carolina Massage School, we believe that Safe Alliance provides a needed service in our local community. Victims of these violent crimes are often left with scars that require professional support to heal well. Safe Alliance provides that support to give these victims the best chance of recovery after their traumatic events.
That is why we are proud to sponsor the Evening of Hope and Healing. With our support, and yours, Safe Alliance can raise the funds it needs to continue offering this important work. Make plans now to attend, or purchase your tickets today before they are sold out, and join us in supporting Safe Alliance and their vital work.
Kristy Serdinsky, Owner, and Director of Education at NC Massage School. With a background in teaching and administration in charter and private schools, Kristy's dedication to helping others led her to open a massage spa in Cornelius in 2015. Now, she brings her expertise in education and the massage and bodywork industry to NC Massage School, blending her two passions to create a transformative learning experience.