Massage therapy is a highly skilled field in which massage therapists apply specific massage techniques to provide pain relief and muscle relaxation to help patients heal from injuries and feel their best. Because of the way in which massage therapists work, the field requires specific training. Massage therapists must undergo stringent training in order to achieve licensure, and then maintain that licensure through ongoing continuing education. Massage therapy training from NC Massage School will help you launch an effective career and then maintain your licensure as you provide services to your clients.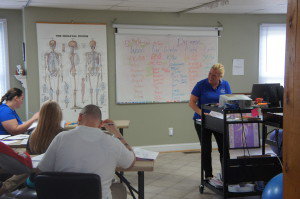 What Our Massage Therapy Training Entails
NC Massage School offers massage therapy diploma programs for new massage therapy students and continuing education for those already in the field. Our massage therapy diploma program is a 650-hour diploma program that offers all of the massage therapy training you need to start a successful career. Graduates of this program receive Neuromuscular Certification, so they are ready to begin pursuing their professional work as soon as they graduate. The stringent requirements mean our graduates are well prepared not just for the licensure process, but also for the demands of the job.
For our continuing education students, we provide massage therapy training covering a wide range of relevant topics through workshops and special classes. From teaching our students who to use their craft to treat senior patients to providing special courses on new techniques and even refresher courses for seasoned professionals, we ensure that you can maintain your licensure easily with our regular sessions and classes. These classes are often taught by guest instructors who are known experts in their fields.
Convenient Class Schedules to Meet Your Needs
At NC Massage School, we realize that everyone leads busy lives. That's why we offer both daytime and evening classes, as well as regular workshops and weekend seminars. This means you can pursue your education in a way that works with your schedule, even if you are currently employed full time. Whether you are looking to make a career switch or are already working in massage therapy and need continuing education massage therapy training, we will be able to accommodate most work schedules.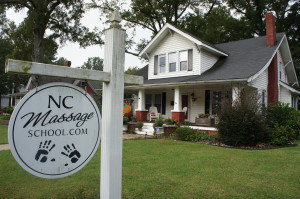 Convenient Location, Hands-On Training
Another benefit of using NC Massage School for your massage therapy training is our convenient location. Our location in Cornelius is close to Charlotte, yet far enough away to be more tranquil, relaxed environment. When you train with NC Massage School, you receive hands-on instruction from staff we picked carefully for their knowledge and industry experience. We strive to keep a feeling of community among our professionals and our students, so you receive a quality, practical education you can use in the field.
At NC Massage School, we know you can go many places for massage therapy training. We have created a school that provides exceptional training from personable, experienced people. If you are looking for a place for massage therapy training, NC Massage School has the family you want to join. Visit us today or browse our current course offering to learn more about our current and upcoming classes.