Lucrative Opportunities in the Health and Relaxation Industry
As stress levels rise, more Americans are turning to massage therapy, with 21% of women and 25% of men receiving a massage in 2021*. The industry serves a growing client base, making it a promising opportunity worth exploring. Learn more about why people are choosing to find a career in the health and wellness industry.
The Dual Benefits of Massage: Massage therapy is sought for relaxation and health. It can help with various ailments, including stress-related insomnia, digestive disorders, headaches, soft tissue strains, anxiety, and more.
Economic Landscape of the Industry: The COVID pandemic significantly impacted the massage industry, causing a decline in revenues. However, with 369,000 employed in 243,000 businesses and revenues close to $18 billion, it remains a substantial industry.
Tapping into the Healthcare Sector: Over 70% of clients seek massages for health or wellness reasons, and 63% receive them as part of a treatment plan from a doctor or medical provider. Massage therapists can access an underserved market by forming connections in the healthcare sector.
Franchise Opportunities and Market Insights: The industry is highly fragmented, with significant potential for strong franchises to gain prominence. Customers prefer specialist locations, and franchises are gaining strength, offering reassurance in uncertain times.
Targeting the Right Market: Understanding demographics is crucial for a successful massage franchise. Men are now more likely to get massages than women, and consumers with higher incomes are more frequent customers. Demographics can shape marketing strategies and where you find a job.
Embark on a journey in the thriving world of massage therapy and explore the rewarding opportunities it holds. NC School of Massage provides comprehensive training and guidance to help you become a skilled and sought-after massage professional. Take the first step and unlock your potential in this ever-growing industry.

Best Paying Jobs
As the demand for therapeutic and wellness services continues to rise, the landscape of massage therapist jobs has evolved to encompass diverse specialties. This list presents 11 high-paying massage therapist jobs, each offering unique and rewarding experiences for those passionate about helping others achieve better health and well-being.
Spa Assistant: Support spa professionals with tasks and basic massage techniques, with an average salary of $32,180 per year.
PT Assistant: Work under physical therapists to help patients recover mobility, with an average salary of $33,252 per year.
Physical Therapy Aide: Assist physical therapists in exercises and patient scheduling, with an average salary of $37,547 per year.
Spa Attendant: Support spa professionals and assist clients during massages, with an average salary of $40,226 annually.
Esthetician: Provide spa-related treatments and skincare services, with an average salary of $45,767 annually.
Injury Prevention Specialist: Assess and advise on injury prevention, with an average salary of $52,858 annually.
Certified Occupational Therapy Assistant: Perform physical and occupational therapy with an average salary of $69,651 per year.
Massage Therapist: Perform therapeutic massage techniques to manage pain and increase range of motion, with an average salary of $73,905 annually.
Chiropractor: Assess and provide care for joint and muscle pain, with an average salary of $75,970 annually.
Occupational Therapist: Assist patients with physical disabilities to regain function and perform daily activities, with an average salary of $81,702 annually.
Physical Therapist: Assess and provide care for bodily injuries and disabilities, with an average salary of $82,424 per year.
These high-paying massage therapist jobs offer financial security and personal satisfaction, from assisting patients in rehabilitation to providing specialized skincare treatments. Whether you're a seasoned professional looking to explore new horizons or just starting to become a massage therapist, these roles offer a promising and prosperous future.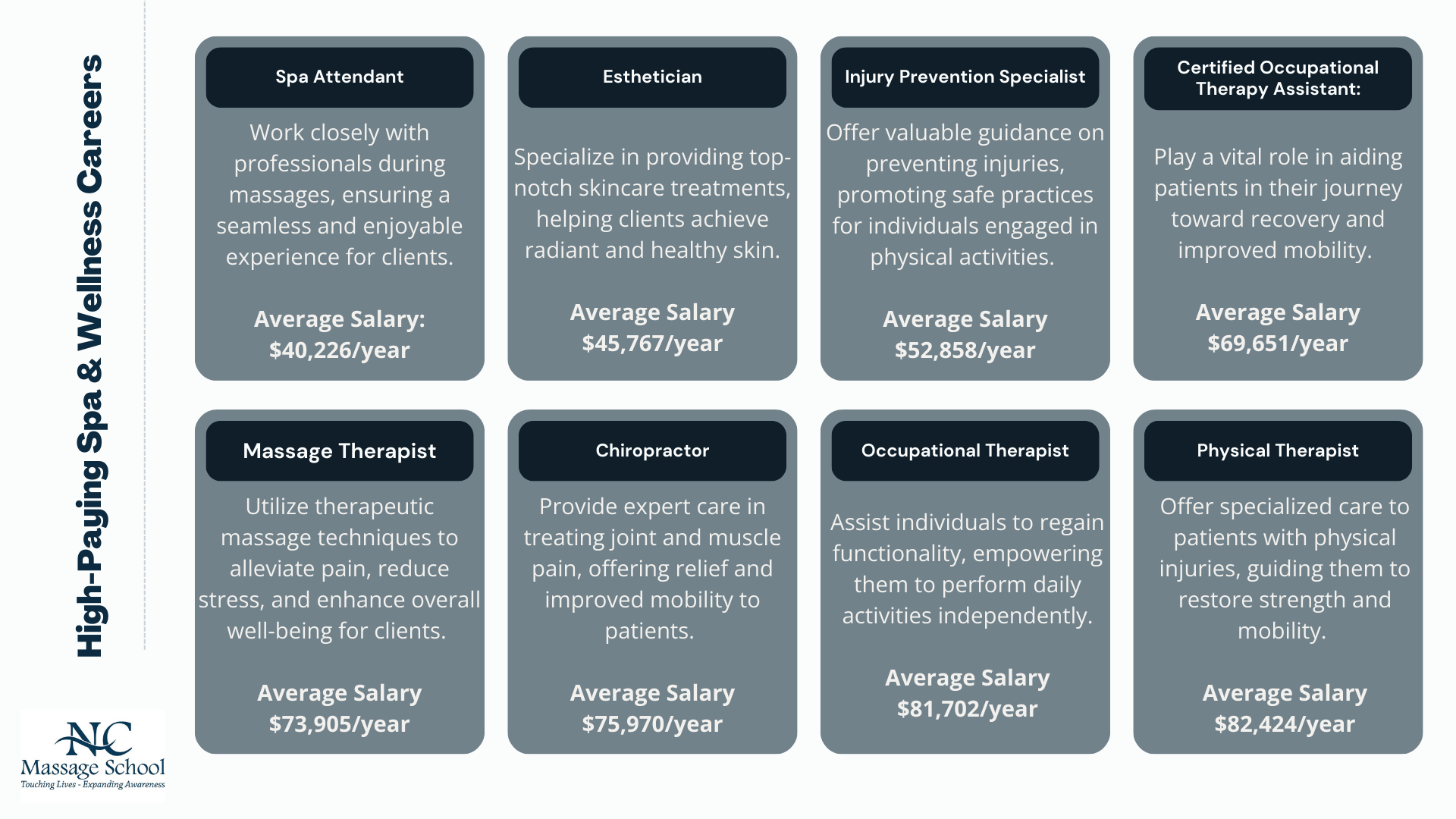 Top Massage Therapy Franchises
Learn more about the ultimate relaxation and wellness destinations in 2023 with these top massage service franchises. From the renowned Massage Envy to the eco-conscious Spavia, each franchise offers a unique blend of luxurious treatments, personalized experiences, and exclusive membership benefits. Join us as we explore the best spa havens, providing a glimpse into the world of pampering and rejuvenation.
Massage Green Spa – provides various massage services, infrared sauna sessions, and facials in environmentally-friendly facilities using eco-friendly products. They offer monthly memberships that can include any or all of their different services. Founded in 2008, they have 41 locations.
The Woodhouse Day Spa – goes the extra mile to pamper customers with comfy robes, reflexology sandals, and time in the Quiet Room for tea before experiencing their services. They offer massages, facials, manicures, pedicures, and more. Founded in 2001, they currently have 76 locations, all in the US.
Massage Envy – offers a basic membership with one monthly 1-hour massage or facial, special pricing on other services, discounts for family members, and more. It was founded in 2002 and currently has 1,103 locations in the US.
Hand and Stone Massage and Facial Spa – provides a monthly membership that saves customers over a third of what non-members would pay for the same services. They offer massages, facials, hot towel treatments, hair removal, and more. It was founded in 2004 and has 525 locations, with 33 outside the US.
Elements Massage – focuses on personalized therapeutic massage and offers an Elements Wellness Program with an automatic carryover of unused sessions. They also have AromaRitual aromatherapy add-ons. Founded in 2000, they currently have 244 locations.
Massage Heights – offers customized Lifestyle Programs, free aromatherapy, 50% off non-member pricing for other services, and automatic rollover of unused sessions. They recently introduced dynamic cupping therapy in all locations. It was founded in 2004 and has 118 locations, with ten outside the US.
Spavia – is dedicated to providing a spa experience using only eco-friendly products that are organic, paraben-free, and all-natural. Their services include massages, body treatments, facials, eyelash extensions, and more. They offer three different membership levels and currently have 52 locations, all in the US.
LaVida Massage – offers holistic health and wellness services for the whole family, including massage and skincare solutions such as ultrasonic facials and designer peels. Their membership program saves customers 25% on all services and products. Founded in 2007, they have 50 locations, all in the US.
Careers in Massage Therapy
In conclusion, the massage therapy industry is experiencing a significant rise in demand as people seek relief from stress and prioritize their well-being. The potential for success and growth in this field is evident, with various massage service franchises offering unique experiences to their clientele.
If you're considering a career in massage therapy or aiming to expand your knowledge and skills in this flourishing industry, look no further than NC Massage School. We can help you become a skilled and sought-after massage professional with comprehensive training and guidance. Register now for the upcoming semester!
*Information was researched and gathered from multiple sources, including massagetherapylicense.org, indeed.com, and money.usnews.com.
Kristy Serdinsky, Owner, and Director of Education at NC Massage School. With a background in teaching and administration in charter and private schools, Kristy's dedication to helping others led her to open a massage spa in Cornelius in 2015. Now, she brings her expertise in education and the massage and bodywork industry to NC Massage School, blending her two passions to create a transformative learning experience.