Chair Massage Classes
Seated massage has been around for a while. The Japanese have incorporated it into their bathhouse routines for centuries. Still, chair massage as it's known today was introduced around 1984 when a portable chair was designed to hold an entire adult body, affording the massage therapist full, easy access to the client.
It turned out to be a significant breakthrough in the massage therapy world in that it significantly increased the number of people who could easily obtain massage therapy services. Clients could receive massages while fully clothed and in public areas, removing potential misunderstandings. Also, the length of a massage therapy session could be adjusted to accommodate smaller personal budgets or time constraints. Possibly most importantly, these new massage chairs were portable. Massage therapy services could be brought to potential clients—business buildings, malls, public events—and not require in-office visits.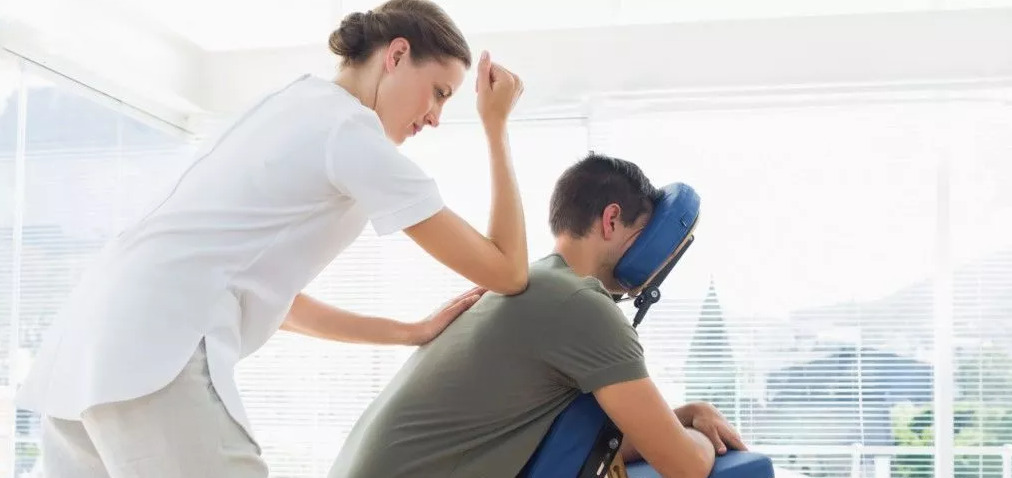 Since introduced, massage chair therapy has grown increasingly popular–and for a good reason. As much a benefit chair massage has for the massage industry, it delivers numerous benefits to clients.
Even a fifteen-minute chair massage can provide many clients the same benefits they'd get from a table massage. Chair massage has been shown to reduce stress, anxiety, depression, and blood pressure. In addition, it can help with musculoskeletal aches and pains, improve one's sleep, reduce fatigue, and make one feel more alert and clearer-headed. A good chair massage can also provide an overall sense of well-being.
Learn more about our upcoming Continuing Education classes for licensed massage therapists.
*****
Therapeutic Chair Massage With Tori Shepherd
6 CE Hours – $120.00
Early Registration – $120.00
General Registration – $130.00
Date: 11/1/2022
Instructor: Tori Shepherd, LMBT 10973
This interactive one-day workshop uses Ralph Stephen's textbook Therapeutic Chair Massage. It focuses on our natural instinctive urge to rub a person's shoulders while sitting in a chair.
Seated massage therapy can be performed on-site at a client's location or the therapist's office. These short treatments, conducted over regular clothes, can make therapeutic massage more accessible to the general public and help promote a therapist's private practice.
The class will get participants familiar with body mechanics for chair massage and identify proper ways to sanitize and maintain their equipment.
The instructor will demonstrate three routines that participants will then get practice in:
Relaxation Routine
Therapeutic Back and Neck Routine
Therapeutic Routine for Shoulder.
Class participants will learn to identify and create promotions for their target markets. There will also be a discussion on setting rates and establishing contracts with clients and independent contractors. The class will also review strategies for creating, maintaining, and retaining clients.
* * *
NC Massage is a fully furnished massage school and will provide Oakworks massage tables, class tables, and computer projectors for overhead presentations.
NCBTMB Continuing Education Approved Provider #200