NC Massage School has now opened enrollment for our spring diploma program. If you have been considering a career in massage therapy, now is a great time to jump on board. With our 650 Hour Massage Diploma Program, you can get the training and certification you need to launch your career. The next session starts May 25th, 2020 so don't wait. Enroll today!
About Our Spring Program
On May 25th, 2020 we will begin the next installment of our full massage therapy diploma curriculum. This includes:
180 hours of Science and Muscle courses
50 hours of Practice Building courses
420 hours of Massage and Related courses, such as hydrotherapy and acupressure
In the end, you will complete 650 hours of training and receive the core skills you need to launch a successful massage therapy career.
Founded in 2002, NC Massage School makes it convenient to get the training you need at a schedule that works for you. The spring program is available as a full-time or part-time program. The full-time program meets Mondays through Thursdays starting at 8 am. This program takes six months to complete, so it is the right choice for those who need to jump start their careers quickly. The part-time program meets on Mondays and Tuesdays for the first semester, then Wednesdays and Thursdays for the second semester. This requires 12 months to complete, but offers greater flexibility for those who work full time while attending school.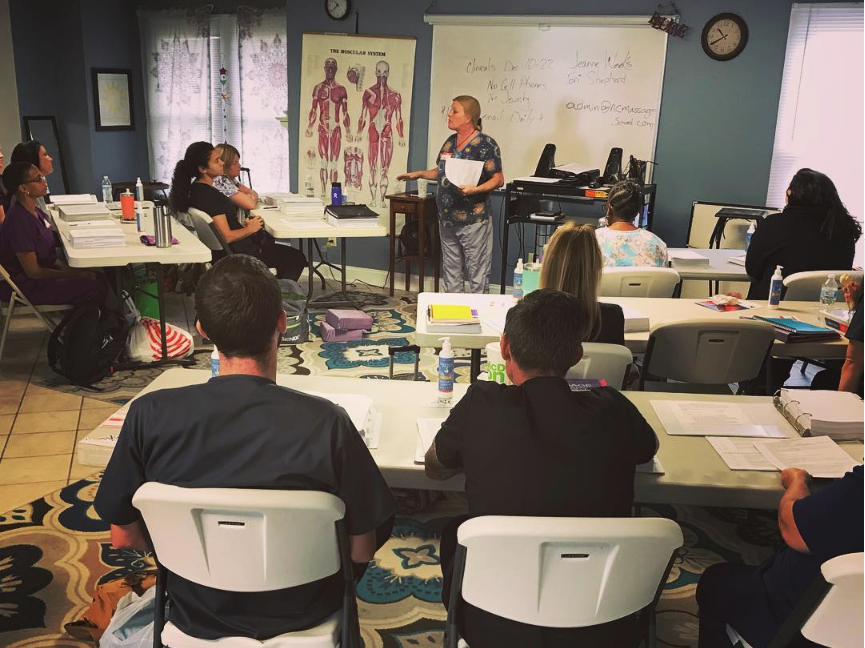 Why Choose NC Massage School?
Conveniently located in Cornelius not far from Charlotte, NC Massage School is one of the region's most trusted training centers for massage training. The school is approved through the North Carolina Board of Massage and Bodywork Therapy, which means students can be confident that they are receiving excellent training. The program has one-on-one, hands-on training built in to its classes, and the maximum class size is capped at 16 students. This ensures individualized attention from each of the instructors.
The 650-hour diploma program completes all of the training required for Neuromuscular Certification, which is built into the program. This means graduates can start their careers quickly after graduation. In addition, NC Massage School offers regular classes to help with continuing education needs, so you can always stay at the forefront of the latest skills and techniques in the massage world.
If a massage therapist career is the right career path for you, register today for spring classes with NC Massage School. We look forward to adding you to our growing list of successful graduates who are bringing the benefits of massage to clients all throughout North Carolina.
Kristy Serdinsky, Owner, and Director of Education at NC Massage School. With a background in teaching and administration in charter and private schools, Kristy's dedication to helping others led her to open a massage spa in Cornelius in 2015. Now, she brings her expertise in education and the massage and bodywork industry to NC Massage School, blending her two passions to create a transformative learning experience.