After the 2016 Olympics, interest in cupping therapies was at an all-time high. As people around the globe saw the signature bruising on the swimmers and other athletes, massage therapy professionals were being asked about this cupping therapy. At NC Massage School, we had an all-time high number of views about our MediCupping Therapy training in 2016. In our continuing efforts to provide the best, most-in-demand training to our students, we are pleased to bring this topic and training back as part of our 2017 continuing education options.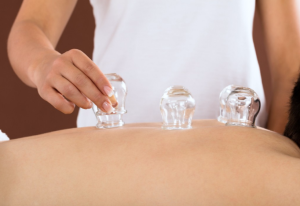 What Is MediCupping Therapy?
Though newly popular, cupping therapy is not new. In fact, it is an ancient treatment that has recently been adapted for modern body work. MediCupping involves the use of specialized cups and a vacuum to produce gentle separation between the layers of the skin. This allows renewed blood flow and water absorption in dehydrated and injured tissue, improving healing times and overall health and wellness.
MediCupping Therapy is effective at healing release toxins and inflammation from deep joint tissue. The suctioning power of the cups reaches into the soft tissue and works to pull those toxins towards the surface where the lymphatic system and the skin can draw them out of the body. This helps release scar tissue as well, even in old injuries. In addition to all of these benefits to the patient, MediCupping enhances the overall benefits of massage while decreasing the amount of strain the practitioner must endure.
Join Us Now for MediCupping Therapy Training!
At NC Massage School, we are pleased to offer a three-day session on Anita Shannon's MediCupping Therapy entitled "Have You Got 'Issues in Your Tissues'" in July of 2017. Taught by Annie Garic, this session will earn students 22 CEs and will include hands-on training in the use of MediCupping therapy. It will also provide information about the therapy, how and why it works, and how to best implement it into an existing practice. You will leave the seminar prepared to implement this therapy in your practice, if you wish, or ready to answer questions knowledgeably about it for your clients.
Registration for the training is now open. The class is scheduled for three full days July 7 through July 9. Early registration for the class is $425, and after June 30 the cost increases to $445.
Kristy Serdinsky, Owner, and Director of Education at NC Massage School. With a background in teaching and administration in charter and private schools, Kristy's dedication to helping others led her to open a massage spa in Cornelius in 2015. Now, she brings her expertise in education and the massage and bodywork industry to NC Massage School, blending her two passions to create a transformative learning experience.