Today, people are more stressed then ever before. They rush from one job to the next, without every getting the chance to truly relax. Massage therapists are able to provide a moment of relaxation while also helping to improve health, immune function and overall wellness. If you are considering a career as a massage therapist, here are some of the career options at your disposal.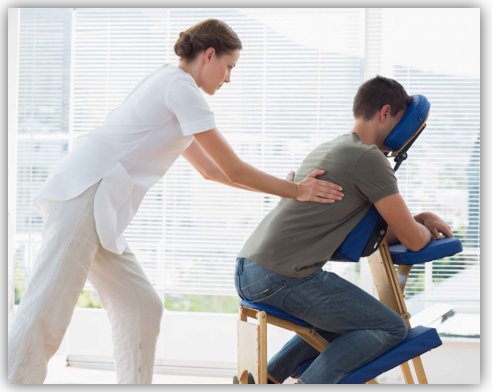 Massage Therapy in Medical and Health Care Settings
Massage therapy careers in medical and healthcare settings can help support the work of doctors, physical therapists and chiropractors. Massage therapists can help loosen muscles and joints, improve range of motion and circulation and support strengthening of weakened muscles. Many medical professionals in all areas are hiring massage therapists to join them in their practices to give their patients better outcomes. Massage therapists in these careers practice clinical therapeutic massage.
Massage Therapy Careers at Spas
Most people think of massage therapists working in spas, and there is still a strong demand for massage professionals in these locations. Spa-based massage therapists will focus more on relaxation and stress reduction than clinical therapeutic massage, but they provide similar benefits to those working in medical practices. Common types of massage in these venues include Swedish massage, stone massage and deep tissue massage. Many spas will choose therapists with several types of massage training to ensure a full list of services for their clients.
Fitness and Sports Careers in Massage
Fitness professionals and athletes can benefit from therapeutic massage to keep muscles limber and improve overall circulation. Massage therapists can be employed by coaches, sports teams and gyms to ensure that athletes have the treatment they need readily at their disposal. Therapists can also help improve recovery after sports-related injuries.
Varied Career Options Make Massage Therapy a Rewarding Career Option
The massage therapy field has over 80 different modalities. Whether you learn Swedish massage, acupressure, neuromuscular massage or something else, you will find a number of different venues for your skills. To get the training you need to succeed in this career path, trust the team at North Carolina Massage School.
Kristy Serdinsky, Owner, and Director of Education at NC Massage School. With a background in teaching and administration in charter and private schools, Kristy's dedication to helping others led her to open a massage spa in Cornelius in 2015. Now, she brings her expertise in education and the massage and bodywork industry to NC Massage School, blending her two passions to create a transformative learning experience.