Do you picture yourself as a massage therapist? Are you considering applying to NC Massage School? We think this is a great career choice, but before you jump in, take the time to ensure that it is the right choice for you. Here are some considerations to make before applying to massage therapy school.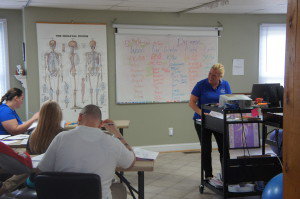 1. Count the Cost
At NC Massage School, we strive to keep the cost of our tuition low, but it is not free. Make sure that you have the money available to pay for your entire education. You can expect to pay between $6 and $17 for each hour of massage therapy school education that you complete.
2. Understand the Demands of the Job
Massage therapy is a rewarding career, but it can be physically difficult. You will need to use your hands five to eight hours a day, working hard to help your patients. This can wear down the joints in your hands and wrists. Because of this, burn out rate is quite high in this field. Before you invest in your education, make sure that you are able to handle the rigors of the job.
3. Consider Continuing Education
Getting your degree and starting your career is just the first step. In almost every state, massage therapists have to pursue continuing education in order to maintain certification. The convenient and flexible courses at NC Massage School make this easy, but it is something you will have to keep track of every single year in order to keep your license.
4. Determine Your Specialization
Finally, as you prepare to enter massage therapy school, consider whether or not you are going to specialize. Most massage therapists will focus on a specific type of massage while getting their training. Whether you choose aromatherapy, deep tissue massage or reflexology, choosing a specialization will direct the course of your study, and also help you choose the right school.
For those who love to help people and have a passion for natural living, a career in massage therapy can be quite rewarding. If you have thought through these factors and determined that massage therapy is the right career choice for you, then consider the course offerings from NC Massage School. We look forward to helping you pursue your rewarding career.
Kristy Serdinsky, Owner, and Director of Education at NC Massage School. With a background in teaching and administration in charter and private schools, Kristy's dedication to helping others led her to open a massage spa in Cornelius in 2015. Now, she brings her expertise in education and the massage and bodywork industry to NC Massage School, blending her two passions to create a transformative learning experience.