It's the holiday season. While you are wrapping presents and thawing turkeys, make sure to schedule time for a holiday massage. Here are four reasons why a massage is not just a luxury, but rather a necessity this time of the year.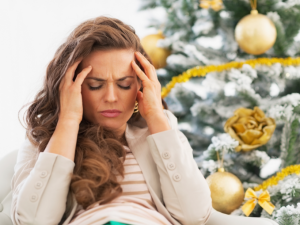 1. The Holidays are Stressful
Whether you love family time or dread it, the holidays bring extra stress to your already busy life. Even if the only additional stress is the stress of cleaning the house for company to come, that stress can lodge itself in your shoulders and back, making it difficult to feel your best. A massage can help loosen those tight muscles, increase circulation and provide a moment of stress relief.
2. You Need to Feel Your Best
Work parties, family get-togethers, children's holiday programs – you don't have time to be under the weather during the holidays. Yet this is also the season when colds and flu bugs start to raise their ugly heads. A massage can help improve circulation and boost your overall immunity, so you will be better prepared to fight off any bugs you come in contact with.
3. The Weather Outside is Frightful
It's cold outside. The drop in temperatures causes the muscles to tighten. Thin can increase aching backs, sore knees and other aches and pains. Your massage therapist can help warm those muscles and joints so you suffer from fewer holiday aches and pains.
4. You Owe it to Yourself
During the holidays, you are giving to your family over and over again. A massage is a chance to give something back to yourself. It effectively reduces stress, treats a variety of medical conditions and can help prevent further stress-related injuries during the holidays.
The holidays are here. Protect your body and prepare yourself with a refreshing, relaxing massage.
Looking for a massage to start off the New Year? Get a student massage for just $37 / hour! Click Here to schedule!