If you are nearing the end of your diploma program at NC Massage School, you may be wondering how to go about finding a job. While massage therapy jobs are typically clearly labeled, knowing what to expect on the job description, and what other titles these jobs can go by, can help you find the right position.
Titles for Massage Therapy Jobs
First, learn to recognize the different titles that can mean a massage therapist position. In addition to positions for massage therapists, you may see:
Bodywork therapist
Licensed massage practitioner
Massotherapist
Mechanotherapist
Neuromuscular therapist
Orthopedic neuromuscular therapist
Reiki master
Rolfer
Therapeutic massage technician
If you see any of these terms on a job description, it may be just the job you're looking for!
Job Description
The job description for a massage therapist will include something along the lines of performing therapeutic massage of the soft tissue and joints or manipulating muscles or other soft tissues in the body. It may also include aspects of assessment and therapy. The job may also include travel to patient homes or offices to deliver therapeutic massage. Massage therapists may be asked to create custom treatment plans to address the specific concerns of an individual patient.
Part of this job may also involve working with other care professionals to develop and implement treatment plans. A massage therapist may need to work with physical therapists, doctors and chiropractors to provide therapeutic massage alongside other treatments.
It's also the job of the massage therapist to maintain records of treatments provided to their clients. They may be asked to refer their clients to other types of therapists and medical professionals when massage therapy is not provide adequate support and treatment.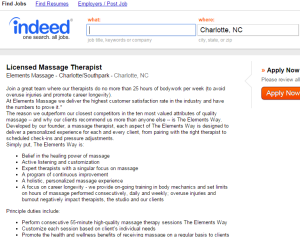 Is It a Good Fit?
When you find a job description that seems to be calling for a massage therapist, read it over carefully. Do you have the right training with your current diploma? Are you willing to take on the responsibilities they require? If not, keep looking. Job opportunities for massage therapists are growing at a rate of 19 percent, so you should be able to find something that is an ideal fit for your training, skills and professional desires.