One of the ways massage therapists keep their credentials in place, and enjoy learning about the latest trends in the industry, is through continuing education for massage therapists.
NC Massage School works hard to provide ongoing training for our students, helping keep our graduates and students at the cutting edge of their industry. If you are looking for continuing education for massage therapists, here are some of the most popular classes being offered.
Energy Medicine 101 and 102
Energy Medicine 101 and 102 are one-day classes that cover the topics in Donna Eden's book Energy Medicine. The Energy Medicine 101 class introduces the basics of Energy Medicine, including how therapists can help the body achieve healing and encourage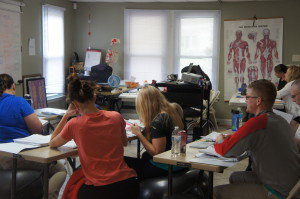 clients to take care of their own self-care needs. With a Daily Energy Routine, the immune system is balanced and enhanced, memory and mental clarity are improved, and the individual feels better overall. The 101 class will also discuss meridians and the reflex points that can tap into these rivers of energy. Finally, it will talk about grounding.
Energy Medicine 102 takes a closer look at many of the topics in 101, including how to use these techniques for pain management and stress relief. It covers Energy Medicine for Eyes and Energy Testing. Both classes end with an Energy Medicine mini-session that demonstrates techniques and helps balance and calm the body's energy. The classes take place on Saturday and Sunday, April 18 and 19 from 9 until 5, and massage therapists will earn 12 CEs upon successful completion.
Intro to the Aromatic World
Have you found yourself curious about ways in which aromatherapy can enhance your massage therapy business or work? Then sign up for Intro to the Aromatic World to get a basic introduction to the world of aromatherapy. Taught by Cynthia J. Loving, holistic clinical aromatherapist, this course will delve into the ways essential oils can enhance your massage therapy or healing arts practice. The Level 1 class is one of our most popular continuing education classes for massage therapists, and it is scheduled for March 21 and 22 from 9 to 5. Completing the class will earn you 14 CE hours.
Traditional Thai Foot Massage
Adding traditional Thai foot massage to your practice will help you better meet the needs of your customers and clients, and Jill Burynski's Traditional Thai Foot Massage class, scheduled for June 26 from 9 to 5, is a great way to learn this technique. This fun class will add a practical service to your offerings by teaching you how to use reflex points in the foot to help improve overall health in the body.
Are you interested in one of these options for continuing education for massage therapist training? Visit our continuing education page to learn more about our upcoming options.
Kristy Serdinsky, Owner, and Director of Education at NC Massage School. With a background in teaching and administration in charter and private schools, Kristy's dedication to helping others led her to open a massage spa in Cornelius in 2015. Now, she brings her expertise in education and the massage and bodywork industry to NC Massage School, blending her two passions to create a transformative learning experience.