If you are new to NC Massage School, you may be wondering what type of massage therapy classes we offer, and if they will fit your needs. Our goal is to be the only source new and seasoned massage therapy professionals in the area need for their coursework, so you will find that we offer all of the massage therapy classes you need to get and maintain your professional licensure. Here are some examples of the classes we offer.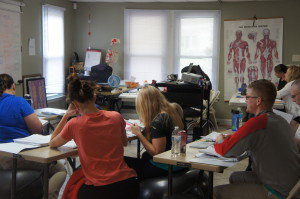 650-hour Diploma Program
One of our most popular products is our 650-hour diploma program. This program gives you all of the skills and training you need for an official diploma in massage therapy. It is priced quite affordably and has a special in-house tuition financing plan for those who need additional help.
In the 650-hour diploma program, you will learn the latest techniques and options for delivering professional therapeutic massage. You will also graduate with all of the training required for your massage therapy license. In fact, your graduation comes with certification in Clinical Neuromuscular and Structural Bodywork.
Online Courses for Continuing Education
While our 650-hour diploma program requires work to be completed at our facility, we do offer online classes for our continuing education work. This is convenient for those who are looking to improve their skills, expand their knowledge and maintain licensure, but who are not able to attend one of our weekend classes. These courses allow you to training on your own schedule while you maintain our work at your clinic or facility.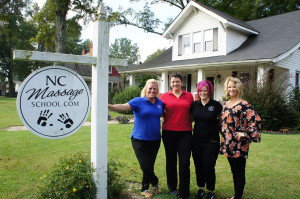 Continuing Education Massage Therapy Classes
In addition to the diploma program, NC Massage School offers regular courses for continuing education. These programs, which are held on weekends and days throughout the year, offer an intensive, one to three-day instruction that gives you a new skill or technique that you can put to work immediately in your practice. These courses also deliver the hours you need for your continuing education work, so you can maintain your licensure while giving your clients the best possible treatments.
No matter what your need for massage therapy classes may be, or where you are on your training journey, NC Massage School has courses that will fit. Browse our current course list so you can see your options for yourself, and enroll in the class that best fits your needs. Find out why NC Massage School is the best choice for your massage therapy training by joining our family today.
Kristy Serdinsky, Owner, and Director of Education at NC Massage School. With a background in teaching and administration in charter and private schools, Kristy's dedication to helping others led her to open a massage spa in Cornelius in 2015. Now, she brings her expertise in education and the massage and bodywork industry to NC Massage School, blending her two passions to create a transformative learning experience.