Pursuing your dream career should never be put on hold because of budgetary restraints. Life is too short to spend at a job that you do not enjoy. If becoming a massage therapist is something you have always wanted to do, NOW is the time to do it!
At NC Massage School, we recently announced that our massage classes are now payable through Bill Me Later. What does that mean for you and your hopes for becoming a massage therapist? It means that you can enroll today in massage programs and not have to pay until…you guessed it, later. Six months later to be exact.
Future enrollees in our massage courses do not even need a credit card to become a student here at NC Massage. Bill Me Later is a safe way to secure reusable credit, making it so easy to jumpstart your career as a massage therapist!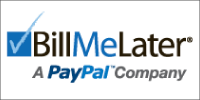 Sometimes solutions like this seem almost too good to be true and people become skeptical. As one of the state's most respected massage therapy institutions, NC Massage would never partner with a service that they did not thoroughly believe in. Bill Me Later is highly trusted in the financial industry and has received awards for its payment solution. It has even been acquired by PayPal, one of the world's most trusted methods for online payments. Thousands of merchants, services and schools offer Bill Me Later as a method of payment. At NC Massage, we have ultimate confidence that it will serve our future students well.
We want our students to focus on learning about the wonderful intricacies of the human body during their massage classes. Stress about money should not deter them from enjoying the experience of a massage therapy education. When students know they have multiple options for tuition payment, they tend to feel more secure in the classroom.
Bill Me Later offers six-months of free financing. This helps alleviate that financial anxiety and allows students to concentrate on more important things, like anatomy and physiology, kinesiology, and neuromuscular treatments.
Our massage programs allow students the flexibility to keep a part-time job on the side. In the matter of 6-to-12 months, our students can complete a 650 Hour Massage Diploma Program AND still earn an income. Additionally, at NC Massage School, we also offer some other great financing options. We have a variety of monthly payment plans in addition to discount incentives for future students.
Tuition for a massage therapy education is money well spent. By completing the NC Massage School program, you will receive a 650 Hour Massage Program Diploma & Certification in Clinical Neuromuscular & Structural Bodywork. Our graduates depart our program with a wealth of knowledge and confidence in their new profession. A degree from NC Massage School goes a long way when interviewing for jobs at places like hospitals, fitness facilities, hotels, chiropractor offices and spas.
A career in massage therapy is a worthwhile one. Unfortunately, many people miss out on the opportunity because they worry about not having enough money to pay for the massage classes up front. At NC Massage School, we are reaching out to those individuals by offering a variety of payment options, including Bill Me Later. No one should be prevented from his or her hopeful career in massage therapy. If you are interested in learning more about NC Massage and our finance plans, call or email us today.