The demand for highly qualified yoga teachers is higher than ever these days.
The ancient Indian practice has become a favorite form of physical exercise and mental getaway for people all over the country. Yoga studios are springing up in towns everywhere and are all jam-packed with new yogis. As a result, studios are frantically searching for teachers to join their staff. Applicants with certification in message therapy are common picks when it comes to hiring yoga teachers.
One of the reasons yoga studio managers scan resumes for a degree in massage therapy is because they are looking for applicants with a solid understanding of human anatomy. Yoga studios, like message therapy facilities, are places people go to heal pain in their joints or to mend a muscle injury. Often times, people new to yoga will approach teachers before or after class and ask questions related to their body.
Why does it hurt when I do this? Is it safe for me to bend like this? I am nursing a rotator cuff tear, what postures should I avoid?
Yoga teachers are lightly trained in human anatomy, however, they do not have the ability to answer such questions with the depth and knowledge as a message therapist would.
During a yoga class, teachers will preform what they call hands-on assistance or adjustments. At times, they will put pressure on muscles and joints in order to deepen a student's pose. Without experience or sufficient knowledge of the musculoskeletal system, a teacher may seriously injure a student if performing this type of assistance incorrectly.
Yoga teachers are also responsible for preventing injuries. A message therapist can see an injury coming a mile away. If a student is not properly hinging at their hips while approaching an inversion or are locking their knees in a standing posture, a teacher with a trained eye can correct the student before any part of their body is hurt.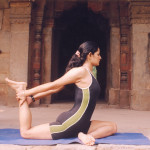 A good yoga teacher will know how to preform short massages on students while they are in relaxing postures. For instance, properly massaging along the spine of a student resting in Child's Pose can feel heavenly for the student if it is done correctly. Foot rubs or a temple message during a student's final Savasana can also help the student relax and fully enter into the meditative state that yoga is supposed to provide.
Message therapists also have great flexibility with their schedules to accommodate a side job as a yoga teacher. Yoga classes can be taught in the early mornings, during the day or late in the evenings. Yoga teachers are typically the highest paid when it comes to group exercise instructors and receive generous compensation for private sessions.
Finally, most message therapists share the same philosophy as yoga teachers. The health and well being of others is the ultimate goal. Both practices target the reduction of stress and tension built up in the body and in the bones.
Nobody knows the human musculoskeletal system as well as message therapists. Why not take advantage of this invaluable knowledge and apply it to a side job as a yoga instructor?
Kristy Serdinsky, Owner, and Director of Education at NC Massage School. With a background in teaching and administration in charter and private schools, Kristy's dedication to helping others led her to open a massage spa in Cornelius in 2015. Now, she brings her expertise in education and the massage and bodywork industry to NC Massage School, blending her two passions to create a transformative learning experience.