Whether you've had a rough week or a long day, massage therapy can take all of the aches and pains away and leave you feeling refreshed, vibrant and relaxed from head to toe. Certainly one of the finer things in life, there are different types of massages for different needs and they each offer their own slice of heaven.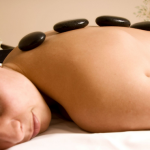 Hot Stone Massage
Winter is a great time for a hot stone massage, a therapy in which smooth stones are heated and placed on various pressure points on the body. Benefits of this type of massage include relaxing the muscles and decreasing muscle spasms, improving the quality of sleep and blood circulation as well as reducing stress, anxiety and depression.
Deep Tissue Massage
Though it isn't uncommon for recipients of deep tissue massage to feel sore or achy for a few days following massage therapy, this type of massage is designed to target the deepest layers of muscle tissue in the body to relieve chronic aches and pains.
Prenatal Massage
Aches and pains are part of the package for pregnant women, but a prenatal massage can often be just the thing a woman needs to relax, get rid of tension and alleviate the anxiety that comes with being pregnant. Prenatal massage therapy can help to release mood-boosting endorphins, relieve sciatic pain and decrease swelling and pressure on the feet and ankles.
Shiatsu Massage
A common and ancient form of Japanese massage therapy, a Shiatsu massage is designed to alleviate a variety of aches and pains, from headaches to depression and even insomnia. This particular type of massage is meant to balance out energy and ease pain by applying pressure to acupressure points throughout the body. Fortunately, shiatsu massage does not leave behind the same achy feeling associated with a deep tissue massage.
Though there are many different types of massage therapies, the above are some of the most common and popular types of massages that people often opt for when visiting a spa. For the best results, it is recommended to identify which areas of the body need to be targeted and the different types of massage before choosing which therapy to receive.
Kristy Serdinsky, Owner, and Director of Education at NC Massage School. With a background in teaching and administration in charter and private schools, Kristy's dedication to helping others led her to open a massage spa in Cornelius in 2015. Now, she brings her expertise in education and the massage and bodywork industry to NC Massage School, blending her two passions to create a transformative learning experience.