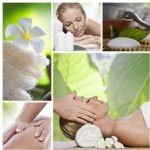 When many people think of environmentally-friendly careers, they often believe that they must go into a science or industrial-related career. However, massage therapy can offer a person many opportunities to choose to provide products and services that have a strong focus on protecting the environment. Not only does massage therapy require very little energy to be expended, but a person can also choose to implement a variety of smart practices that will help to reduce their ecological footprint while still providing an excellent service to their clients. For this reason, the following ideas are offered to help anyone who is interested in a massage therapy career to make decisions that will improve the health of their clients and the surrounding communities that they serve.
Reduce Energy Needs
The lighting in a massage therapy session is critical for creating a comfortable environment for clients. Fortunately for the environment, this means that massage therapists often choose low-energy types of lighting such as candles. When more light is desired, it is best to choose LED or compact fluorescent lights that can offer the advantages of longer lasting light as well as reduced energy use.
Choose Organic Products
Lotions, oils and creams can enhance the massage experience while offering therapists a way to improve a client's skin and overall health. However, many of these products can be laden with chemicals that are harmful for the environment. Instead, eco-savvy massage therapists can choose to use organic products that are made from natural ingredients. Knowing that their massage therapist is dedicated to using organic products is also an incentive that can draw in new clients.
Use Energy-Efficient Appliances
In a massage therapy practice, laundry is often the source of the majority of energy expenditures. For this reason, a person should always choose to use energy-efficient washing machines and dryers. Not only is this better for the environment, but it can also reduce utility expenses as well. Additionally, an efficient hot water heater can help to make sure that towels and sheets are sterilized without overusing the energy.
Massage therapists know that the services they provide can make a significant impact upon their clients' physical and mental health. However, it is also important to remember to continue to give back to their communities by engaging in environmentally-friendly practices. By choosing to reduce their energy expenditures while using organic products, massage therapists can be certain that they are providing a service that will be as good to the environment as it is to the clients that they serve.
Kristy Serdinsky, Owner, and Director of Education at NC Massage School. With a background in teaching and administration in charter and private schools, Kristy's dedication to helping others led her to open a massage spa in Cornelius in 2015. Now, she brings her expertise in education and the massage and bodywork industry to NC Massage School, blending her two passions to create a transformative learning experience.