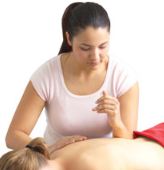 As we begin the New Year, people often spend time thinking about their education, schooling and career options. Life is very stressful and people need a way to relieve the pressure on their sore muscles. The massage therapist career is great for helping people out and making great money.
Life is very fast-paced and places a great deal of heavy burdens on the body. Employment and social relationships have made people very tense in their neck, shoulder and back muscles. Massage therapy is a great career for making people feel better.
Healthy Body for a Productive Life
There has never been a better time to be a massage therapist. Many people are struggling with obesity and unhealthy lifestyles. Massage can increase blood flow for a more healthy metabolism.
Help people live more productive lives. Men and women are more athletic than they have ever been before. When injured, they need massage, rehabilitation and therapy to recover. After they workout, their muscles will be tight.
Senior citizens also need more massage therapy services. There are many great potential benefits of having an enjoyable career in the massage therapy field. You can make a lot of money in this great field.
Be Excited About Work
People are choosing more natural, sustainable ways of living and massage therapy is a perfect fit. When people have relaxed muscles, they think and perform better. Many companies want more productive staff.
You can choose from different types of massage techniques, like Swedish or Thai. Helping people relax is a great career option. Wouldn't it be great to be excited about your work?
Why not make money by making people feel better? If you have higher goals for a rewarding career, then give us a call. Work in an enjoyable career as a massage therapist.
Kristy Serdinsky, Owner, and Director of Education at NC Massage School. With a background in teaching and administration in charter and private schools, Kristy's dedication to helping others led her to open a massage spa in Cornelius in 2015. Now, she brings her expertise in education and the massage and bodywork industry to NC Massage School, blending her two passions to create a transformative learning experience.