650 Hour Diploma Program
For individuals looking for one of the best educations in becoming a massage therapist, learn how you can earn your diploma with our unique 650 Hour Diploma Program. Next class starts January 4, 2016.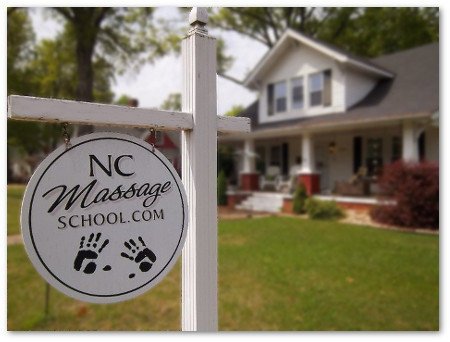 NC Massage School
Whether you are looking to complete a massage therapy diploma program or need continuing education credits to support your current credentials, NC Massage School has the programs you need at a campus conveniently near Charlotte. Our holistic approach to massage therapy education has earned us the reputation for excellence in the industry. Learn more about what we can offer as you pursue further training in massage therapy.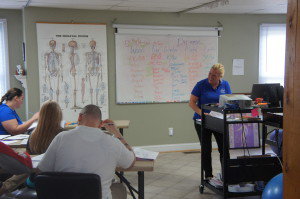 Massage Therapy Diploma Programs (next session starts January 4, 2016)
A career as a massage therapist starts with a massage therapy diploma program. NC Massage School offers diploma programs with one-on-one training with experienced massage professionals. Our diploma program is a 650-hour program that offers Neuromuscular Certification. Through convenient day and evening classes, you can earn your certificate in a way that works with your schedule.
Continuing Education
Practicing massage therapists must continue their education regularly in order to remain licensed and provide the best care to their clients. NC Massage School offers continuing education credits through workshops and classes held throughout the year. Brush up on an area or add a new specialty to your repertoire through NC Massage School's continuing education program.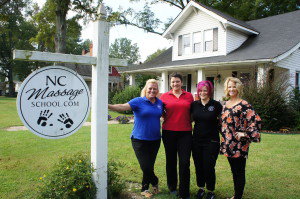 Staff & Community
Our staff is what makes NC Massage School stand out from other programs. We hand-pick our staff, and they are known to be personable and well trained. We choose knowledgeable instructors who understand the industry well and can give you the training you need to reach your goals. Together, we have built a community of massage therapy professionals to provide you the best possible training and support throughout your career.
To see what recent graduates have to say about the quality of our staff and instructors, visit our testimonials page. Soon you can enjoy the same level of training these recent graduates have had through NC Massage School.
Location
NC Massage School is located in Cornelius, North Carolina, just 20 miles from Charlotte. This convenient location allows us to tap all of the benefits of Charlotte, yet gives us the benefit of a less urban environment in which to train future massage therapy professionals.
Call today at  (704) 896-2636 to schedule a visit or receive more information!